Oracy Through Public Speaking - Intermediate
This workshop series is developed specifically for Years 7-8. Activities and lessons are pitched appropriately for the age group, with more advanced skills developed than what you would find in our Beginner series. With clear links to the national curriculum spoken language requirements, these workshops provide KS3 students with an excellent foundation in oracy which can be directly translated into classroom activity. We can tailor workshops to meet your schools requirements or current topic or curriculum areas of focus. 
Schools can request any of the workshops offered below as a stand-alone session, or combine two or more for a full-day or longer programme of activity leading to a capstone public speaking day, supporting your students to showcase their new skills and put oracy on the map in your school.
Workshop length: workshops last 2.5 hours (but multiple options can be combined to create a full-day programme)
Delivery: ESU oracy experts
Pricing: From £325 for half-day or £900 for a series of three.
Please get in touch to discuss specific requirements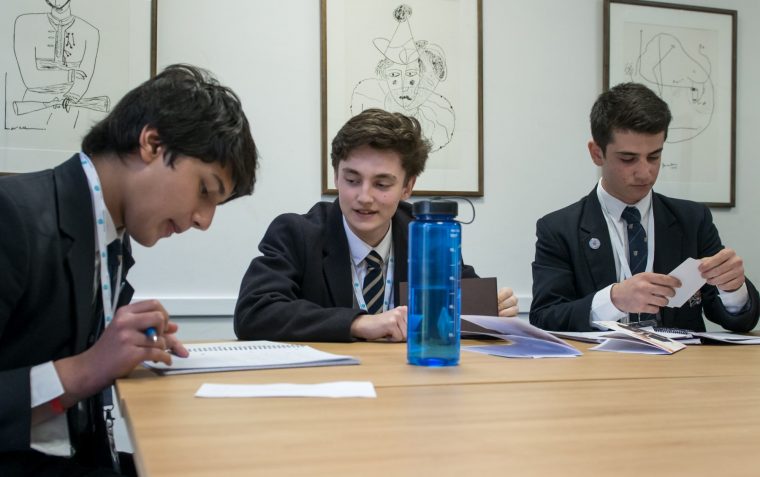 Workshop 1 - An Introduction to Oracy and Persuasive Speech
This workshop is a fun introduction to oracy and speaking in public. We give students an introduction to what oracy is, why it's important, and get them thinking about why using your voice can be a powerful thing. We use a range of interactive games and activities to get all children talking with confidence, and provide you with ideas to use in your everyday teaching. 
Capstone Activity: Pitch it!
Enquire Now
Workshop 2 - Writing and Delivering a Speech
This workshop develops the initial persuasive speech skills introduced in Workshop 1, to encourage children to write and deliver their own speech. With direct links to many areas of the English programmes of study this is an excellent way to support students to understand how speaking and using dialogic techniques in the classroom can help with their writing. It's also great fun, and supports all children to develop their confidence and speaking ability, with immediate take-aways for schools to continue using.
Schools do not need to have engaged with Workshop 1 in the series for this workshop to have impact, and it can be delivered as a stand-alone session.
Capstone Activity: School Council Speech
Enquire Now
Workshop 3 - ESU facilitated Public Speaking Event
This workshop provides a warm up and brief introduction to public speaking (or skills based development activities, depending on prior learning), before we support students to take part in a facilitated public speaking event involving short prep, practice and performance. No advanced preparation needed by the students, but this is an excellent end-of-year capstone, or way to showcase oracy skills within the school. It can also be used as a practise opportunity for teams who may be entering formal competitions.
Enquire Now
Keep in touch
Subscribe to our newsletter for free classroom resources and information about our programmes and events for primary schools