Key facts
What: Largest public speaking competition for schools in England and Wales
Age: Ages 13 – 16 (Years 9-11)
Price: £55 per team (up to two teams per school); subsidies and fee waivers available for schools with high FSMs and EAL
When: Heats begin in November, with the Grand Final in May
In brief
The prestigious ESU-Churchill Public Speaking Competition, sponsored by the International Churchill Society, is the largest such contest in England and Wales, with around 400 teams (each comprising a speaker, questioner and a chairperson).
The different roles allow students to practise and excel in different skill sets, and the competition's unique format, which pairs the speaker from one school with the chair and questioner of another, encourages quick thinking and relationship building.
Most importantly, it's great fun and a terrific way for students to develop their oracy skills in a friendly, supportive environment.
Or register for our introductory webinar to find out more.
Once registered, we will be in touch with the date and venue of your heat and a list of topics to choose from.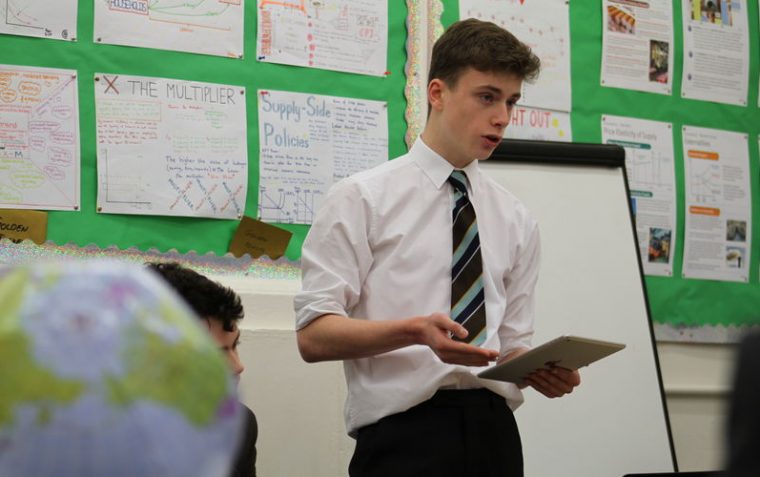 Why do it
Encourages confidence, critical thinking and social mobility, broadening students' horizons and opportunities
Prestigious nationwide (England and Wales) competition, highly motivating for students and the school as a whole
Non-adversarial format which emphasises cooperation and presentation skills
Challenges students to engage with wide-ranging cross-curricular topics, while helping to meet National Curriculum speaking and listening targets
Experienced ESU judges give constructive feedback to all participants at all levels of the competition
Opportunity for students to represent England and Wales at the ESU's International Public Speaking Competition, competing against students from around the world
Regular hints, tips and resources which you can use to improve oracy skills in your classroom
Our network of regional volunteers and partner schools means we can arrange a heat in your area
Builds links and camaraderie with other schools both locally and nationally
'The ESU Public Speaking Competition is a tough challenge but also an amazing opportunity. As a teacher, I've seen my students grow in confidence as they develop new skills and push themselves just beyond their comfort zone. A year on, I can see that they can engage in political debate and thrash things out on a conceptual level in way that they would have found difficult beforehand.'
Kevin Finniear, teacher, St Philip Howard Catholic School, Chichester, ESU-Churchill Public Speaking Competition winners 2017/18
See the competition in action and how the roles of speaker (from one team) and the chair and questioner (from another) interact.
Watch Best Speaker 2023 winner Amy's speech on Materialism is Satisfying. Other speeches from the competition are also available on our YouTube channel
Taunton Academy – winners of the ESU-Churchill Public Speaking Competition 2020-21 – reflect on the skills and confidence they have developed as a result of taking part, and why new schools and even nervous students should get involved.
find out more
First rounds heats run in November and December, with later rounds in January-March. The Grand Final is in May. Submit your teams now to avoid disappointment!
If you have any questions or queries about the ESU-Churchill Public Speaking Competition please email competition@esu.org or call 020 7529 1565.
DISCOVER OUR FREE ORACY RESOURCES
From games to lesson plans, our bank of resources will help you get your class talking
Explore our resources